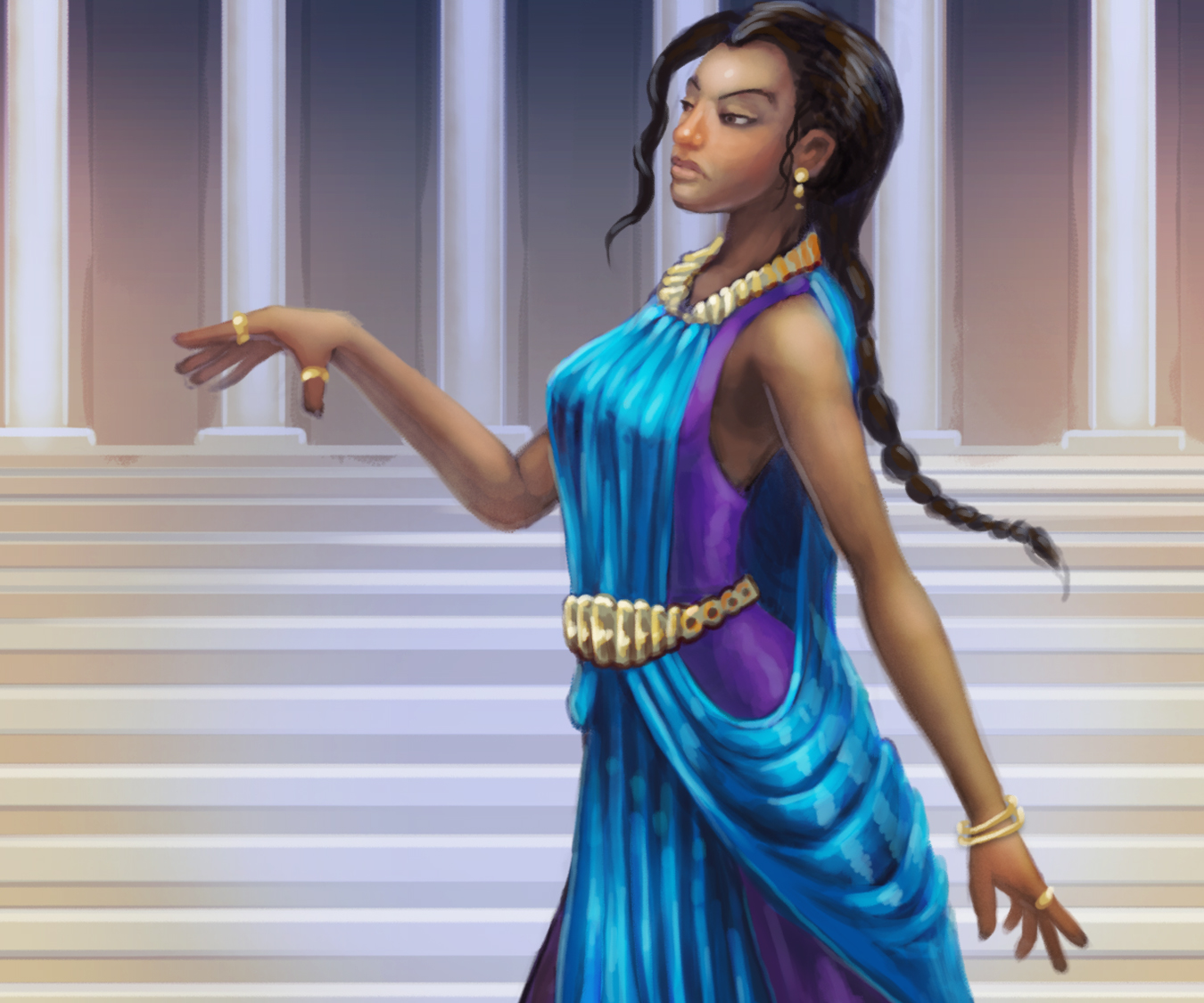 Quintessa Olivia DuMont is a highborn lady from a prestigious family in the southern deserts. Her family sold her off by the way of an arranged marriage to Cambridge Leslie DuMont the Fourth to settle debts to the royal coffers. Not that the Northern Realm accepts slaves as payment for royal debts, but Cambridge's father was willing to pay their debts to the crown in exchange for her. As the twenty fourth daughter of the second youngest Hylian Prince Ukar Zalta Quintessa Olivia, an unnamed daughter only days old at the time, would have been sold off to a senator or warlord as little more than a rare meat, buying some agreement or appeasing some hunger in the literal sense. Cambridge's mother Olivia Andellese secured her husband's action with embellishment and dramatic phrases like "Innocence Lost" and "Infant Soup" and cared for the babe, naming her after herself and her grandmother who had done the same as was their family tradition.
For many years Quintessa would grow up in the halls of the DuMont mansion and estate and live among them as one of the family, but as she became a grown woman the Hylian court called out to her to make her first official return. It was a temporary stay and so the DuMonts sent their son and personal guard along, hoping that the visit would solidify the connection and the marriage would occur shortly after. Quintessa, however, had grown up along side the Fourth, seeing his father and mother as her own, and him as her brother. The two agreed on the visit to her birthparents that they wanted nothing to do with one another after being forced to act out the marriage as if it were already certain for her parents not to marry her off to any of a dozen men, and upon their return she was released from the contract. It was a great relief to the whole family who understood the pairing was not right.
Since then Quintessa has enjoyed the fancy life of a regal lady with few of the concerns of appearance and power of position. As she was a woman with coin to spend on the vast holds of the world the DuMont family felt compelled to send her to the Temple where she learned to value her wealth after caring for those who did not have it. It seemed she had a natural talent and empathy for caring for the injured, inspiring the lost, and was not only ready to but able to offer well-paying jobs. They were at first without thought, whatever job needed done was filled by these people whom she helped. Quintessa soon learned to put them to a purpose she could use, in her name a vast empire of sell swords and merchants and scholars have come to work for her. To what purpose is never entirely clear, the Lady DuMont is mysterious to encounter, dressing in fine jewelry and beautiful clothes only to drink ale while reclining in taverns among small villages throughout the Realm. As of late Quintessa has taken an interest in the Redstaff area and its people, housing the wayward in her temporary lodgings wherever that may be.