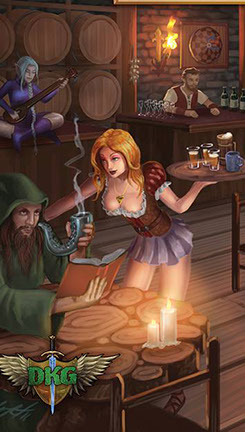 Tavern Masters Is In Stores Now!
Mar 10th, 2018
DKG's Tavern Masters is now available in game stores and hobby shops
all across the world! Thanks to partnering with Impressions Game Distribution, Tavern Masters is available from all major (and many minor) hobby distributors such as Alliance, Diamond, Southern Hobby, ACD, and many others!
Now that the game is out, the next big step is to let both the game store owners and all of your friends and fellow gamers know about the awesome excitement of playing Tavern Masters and its expansions! The more we can get stores to carry our games, the more games we will be able to bring to you, full of all the thematic fun and immersive gameplay that defines each of DKG's games.
Be sure to ask your local retailers if they carry Tavern Masters and other DKG products! The more word we get out, the sooner we get to release more games and more expansions!
You can still find cool exclusive gaming accessories like playmats and collectible mugs in our online store!
DKG To Run A Booth At MagCon 10
Mar 11th, 2018
Dann Kriss Games will be in attendance this year at the 10th annual Mag Con at the New Caney ISD Annex building in New Caney, TX.
The convention will run from 9am on Saturday, April 7th through 7pm on Sunday, April 8th.
DKG will only be in attendance on Saturday, April 7th.
We will also be running events of various DKG games, including a special Tavern Masters: Dockside event and an event of our upcoming Cthulhu: The Great Old One Deluxe Edition! We will also have various other prototypes which we would love to play with you upon request! Here are a few others we will most likely bring:
* Realms Of Destiny (base and expanded)
* Lord Of The Night: Feast Of Blood
* Cults Of The Necronomicon
* Sixpence Bakery
* Game Lords
Come by and see us! Hang out with Dann and play a game or two! There will be some gaming space nearby!